When you're hungry, Chappaqua has just what you need. Here are three unforgettable eateries to explore when you're asking yourself, "Where to eat in Chappaqua?"

Old Stone Trattoria
Image credit: Old Stone Trattoria

Old Stone Trattoria is the place to be for all things Italian. It's locally run, where you can expect to find plenty of delicious authentic Italian dishes made with quality ingredients. With vegetarian, vegan, and gluten-free friendly options too, there's something for everyone to love. Whether you want to dine in with friends or family or grab something on the go, you're sure to enjoy some top-quality food at Old Stone. Open for both lunch and dinner too, their atmosphere is cozy and laid-back.

One of the main things this spot is known for is its pizzas. Baked in a brick oven, they have every topping you can think of, from your classic cheese and pepperoni to penne vodka pizza, to eggplant rollatini pizza, and everything else you can dream of! Another thing they're known for is their expansive pasta menu. Order everything from baked pasta dishes to lasagna, to bolognese meat sauce pasta, and so much more. The unique thing about their pasta menu is that it's customizable, so you can pick exactly what type of pasta shape you like, the sauce, and everything else that goes with it. Other things you can find on their menu include paninis, wraps, seafood dishes, calzones, and salads. Another thing to love about Old Stone Trattoria is that it's a place that is loved by people of all ages, making it perfect for a family outing or place to take your kids to! They have a tasty kids' menu, which includes options like chicken fingers, multiple types of spaghetti, chicken parmesan, and more. This is one of the reasons why Chappaqua locals keep coming back to this restaurant. Don't forget to save room for dessert, too! They offer lots to satisfy your sweet tooth, with Nutella pizza, homemade cheesecake, Tartufo ice cream, triple fudge chocolate cake, and more. Old Stone Trattoria even offers catering! Between their lovely atmosphere, delicious authentic Italian menu, and everything in-between, this is definitely a place you don't want to miss when you're in Chappaqua, New York.

Crabtree's Kittle House Restaurant & Inn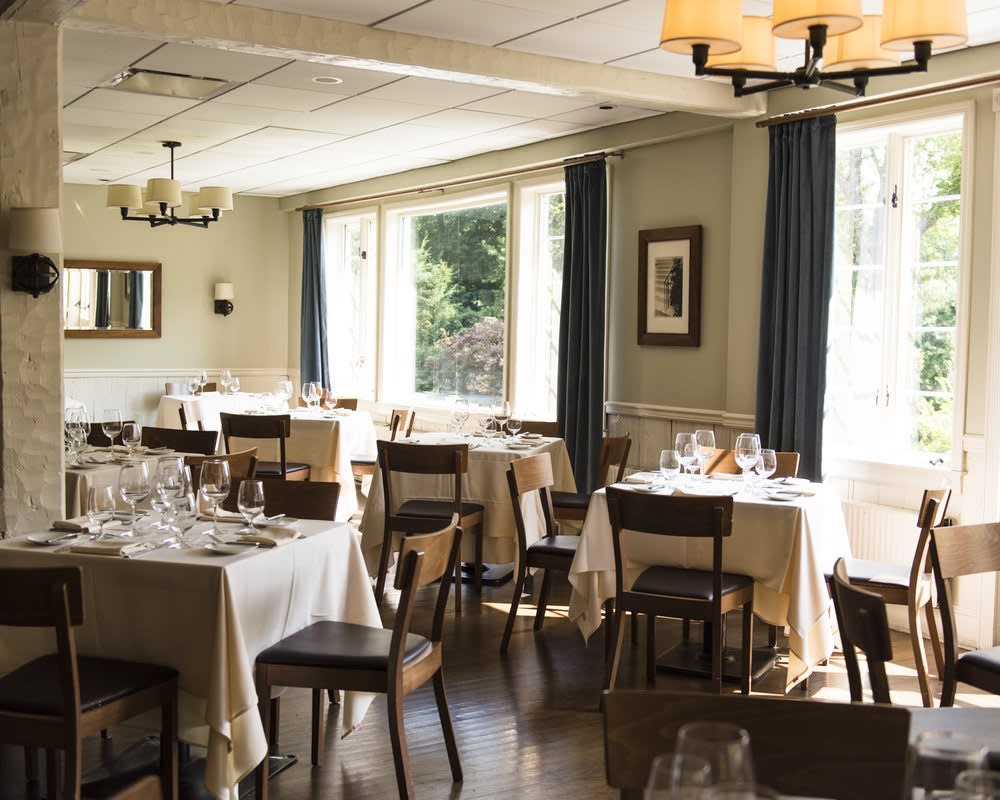 Image credit: Crabtree's Kittle House Restaurant & Inn

This American-style restaurant is the place to be in Chappaqua if you're looking for delicious fine dining. Crabtree's Kittle House Restaurant & Inn has won multiple awards throughout the years for both their food and wine menus. Given their award-winning flavors and lovely atmosphere, you're sure to have an amazing upscale dining experience here. This restaurant also has a lot of history, which goes back 200 years. Originally a small family farm, it eventually transformed into the well-known restaurant that it is today. One really special thing about it is that there are two different ways to experience what Crabtree's Kittle has to offer. They have both a Dining Room for your classic dining experience and a Tap Room which is equipped with a full bar, as well as some great seasonal plates to go with it. In their Dining Room, expect an elegant experience with farm-to-table food. Another thing to love is that no matter what time of day you want to visit, they serve every meal. They have a breakfast menu, a Sunday brunch menu, a lunch menu, a dinner menu, and of course, a dessert menu.

On their breakfast menu, you can find everything from eggs any way you like them to Belgian waffles and blueberry buttermilk pancakes. For lunch, some of their excellent selections include cavatelli bolognese, house-smoked fish, big eye tuna sushi pizzetta, and so much more. Dinner won't disappoint. During the week, you can indulge in a three-course dinner menu, which includes an appetizer, an entrée, and dessert! And trust me, you'll definitely want to save some room for dessert at Crabtree's, with dishes such as warm chocolate chip bread pudding, organic queso fresco cheesecake, and Valrhona chocolate hot fudge sundae.

In their tap room, there's so much to love as well. You'll find a fantastic seasonal menu and cocktail menu, with lots of space to sit, stand, and spend time by the fireplace. If you enjoy a nice glass of wine, then you'll also love Crabtree's award-winning menu of wine selections. They have been collecting wine in their wine cellar since 1986, and currently have around 40,000 wine bottles in their collection. It's a special collection that you won't be able to find anywhere else.

Given their lovely atmosphere, you can book them for weddings and other special private events. It's a wonderful place to celebrate any special day or milestone. So, if you're looking for fine dining in Chappaqua, Crabtree's Kittle House is the perfect place to be.

Le Jardin Du Roi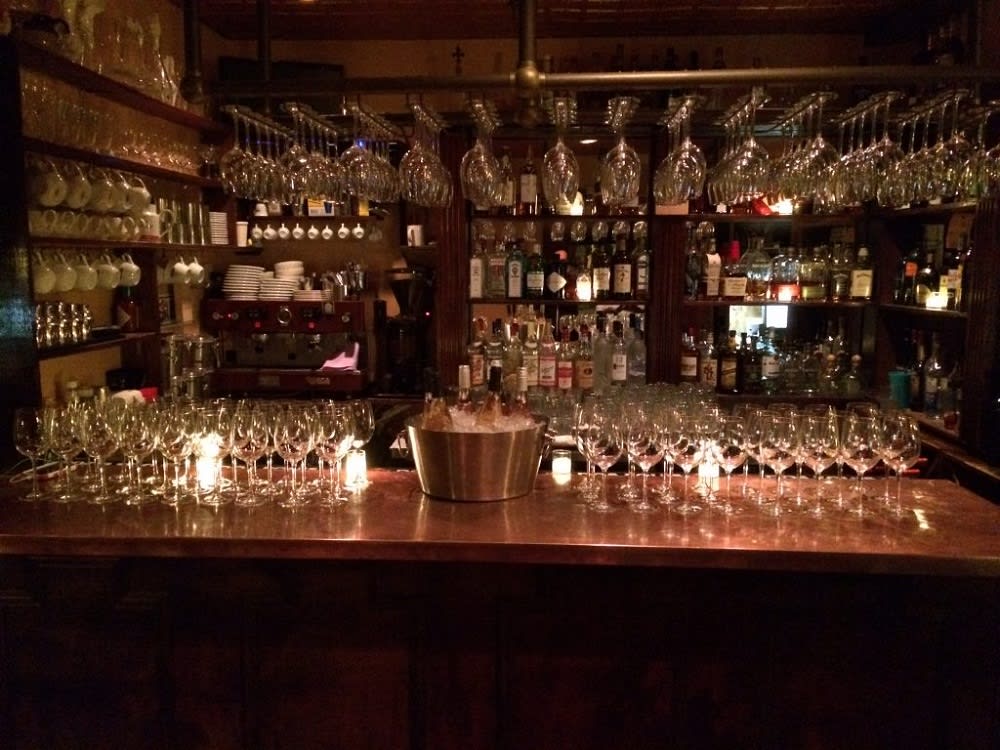 Image credit: Le Jardin Du Roi

This charming and casual French bistro in Chappaqua is known as Le Jardin Du Roi. Here, you can enjoy some excellent French-inspired dishes, including having some options that are vegetarian, vegan, and gluten-free! This restaurant has been well-loved by locals and visitors since it opened its doors in 2001. It offers all of its guests a lot to love, which keeps visitors coming back for more of its decadent French flavors. Choose to dine inside or outside— depending on what you prefer—both of which have their own lovely ambiance. They have a lot of choices on their menu for everyone to love with appetizers, entrees, and dessert. For appetizers, they have dishes like French onion soup, garlic shrimp, plenty of salad options, and cauliflower wings.

For the main entrées, they have lots to love too, from roasted salad to sole almondine, pasta carbonara, many different types of sandwiches, burgers, and tacos, and much more to discover. They have an award-winning barbecue menu to discover as well! On the BBQ menu, there are lots of meat options like peachwood smoked ribs, applewood smoked pulled pork, cherrywood BBQ smoked brisket and plenty more options that can be found on their website. You'll love their dessert menu too, with a choice of bread pudding or brownie à la mode. This restaurant has its own bar too, so you can enjoy your favorite drink to go with your delicious meal. Le Jardin Du Roi is a great place to take the whole family, with a kids menu with yummy options for children. On their kids' menu, you'll find favorites like chicken fingers, grilled cheese, pasta, mac-n-cheese, and cheese quesadillas. This restaurant even offers an all-day breakfast menu, with all of your classic brunch favorites! If you're looking to cater for any big event, they have this option as well! With so many different options to explore, as well as their laid-back and cozy atmosphere, Le Jardin Du Roi is one of the best restaurants for dinner in Chappaqua.

Want to Explore More Chappaqua?

The tasty restaurants are just one of the things that people love so much about Chappaqua, New York. If you're looking for homes for sale in Chappaqua, contact Deena Bouchier for all of your real estate needs.