Nestled within the city of New Castle, just 30 minutes north of New York City, the hamlet of Chappaqua is a gorgeous, exclusive place to settle down. Within the hamlet, you'll find
exceptional restaurants
, a
tight-knit community
, quality schools, and beautiful woodsy neighborhoods. Residents of Chappaque enjoy easy access to the Big Apple and the town's profusion of trails, nature preserves, and parks.
Of course, no American town is complete without tried and true places to grab a cup of joe! With so much to do, many people of Chappaqua get going with morning coffee. If you're looking for Chappaqua real estate and want to know where you can get your caffeine and pastries fix, we can help. Let's take a look at some of Chappaqua's favorite spots for quality coffee and breakfast.
1. Bobo's Cafe
One of the first places locals go when they're not in the mood to make breakfast in their own Chappaqua homes is
Bobo's Cafe
. This local favorite began in Somers, New York, and has since expanded across the state. The cafe is named after the owners' grandpa who helped them develop a passion for serving great drinks with impeccable hospitality.
The owners here truly love coffee drinks and their customers! You'll also find a large assortment of delicacies and dishes to try. You can order breakfast, lunch, or a snack along with your coffee.
Some of Bobo's stand-out menu items include:
The Number One: a cheesy bacon, egg, hash brown, and avocado sandwich served with creamy sriracha on a croissant.

Kawa-Ni: crispy housing pork, jalapeno, cilantro, and a carrot and daikon slaw served on a baguette with kewpie mayo.

Game Changer: a wrap made with vegan sausage, peppers, onions, arugula, and vegan queso.

Smoothie bowls with a base of acai, pitaya, coconut, or blue, drizzled with your choice of a wide range of toppings including chia seeds, Nutella, fresh fruit, nut butters, and more.
If you're in charge of an event that needs catering, Bobo's offers that service. Local guests will spark with recognition of Bobo's, and visitors will jump at the chance to sample food by the iconic small-town brand. It features two main catering packages. The first, the Bo-bo Breakfast Pack, serves about a dozen people with a choice of handcrafted breakfast sandwiches or wraps served with hashbrowns and fruit salad. The second package is the Bo-bo Lunch Box, which also serves about a dozen people. The Lunch Box features non-breakfast sandwiches and wraps plus any of three sides (hot honey chips, house salad, or mac salad).
Whether you're craving coffee, matcha, or frozen hot chocolate, you'll find a little something to satisfy your taste buds at Cafe Bobo's.
2. The Bagel Emporium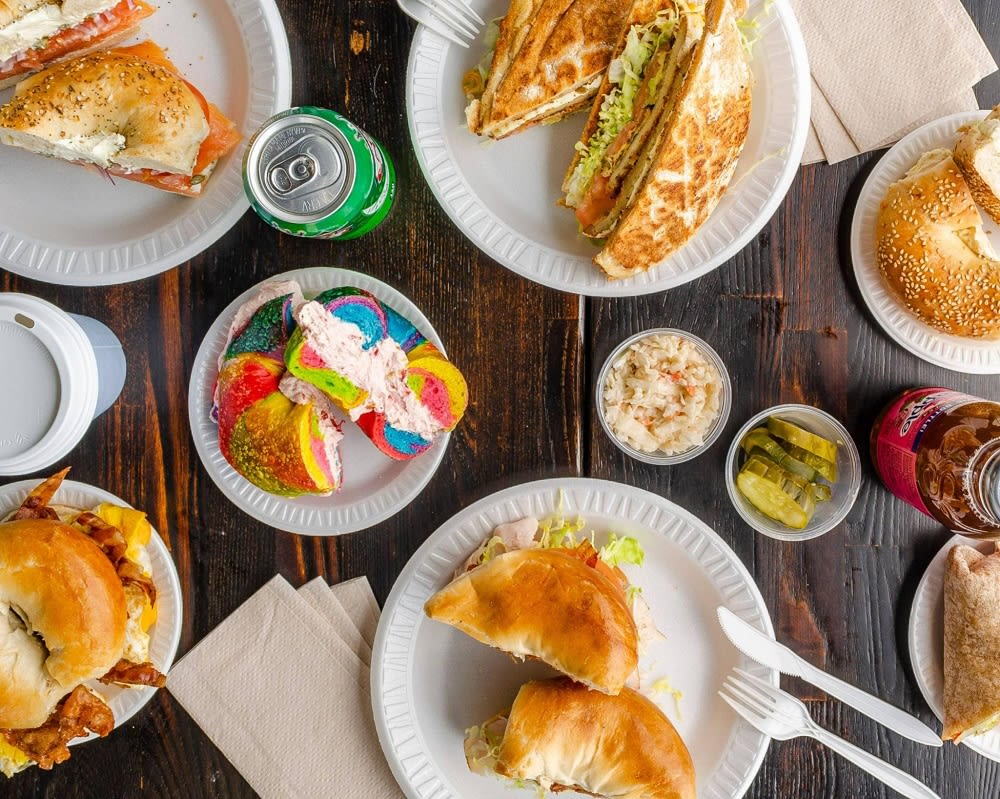 Photo courtesy of Postmates
Known for its delicious food and fun-loving atmosphere,
The Bagel Emporium
is one of the most popular spots to enjoy coffee with breakfast or brunch in Chappaqua. This local hotspot satisfies customers with its own unique twist on the famous New York bagel. You can choose from menu options such as:
Bagel sandwiches on your choice of bagel (or other breads) filled with eggs, meats, and cheeses. In addition to deli meats and cheeses, you can find nearly every type of bagel and flavor of cream cheese or spread here as well, including unusual ones such as jalapeno lox and cannoli flavor.



15 varieties of muffins. Some of which you've probably never tried before, such as chocolate cheesecake and pistachio.



An assortment of wraps, paninis, and specialty sandwiches such as cordon Bleus and tuna melts.
In addition to its many positive online reviews, the Bagel Emporium earned the Best Westchester plaudit in 2017, 2018, 2020, 2021, and 2022. While the straightforward coffee menu deserves commendation, the bagels here truly shine. Just look at the variety of bagel spreads: scallion, vegetable, lox, walnut raisin, strawberry, blueberry, jalapeno, jalapeno lox, jalapeno cheddar, garlic 'n' herb, olive pimiento, bacon horseradish (!), bacon tomato, bacon scallion, cotton candy (!), and cannoli. Truly, if you call Chappaqua home, you could go here every day for a year and get something different.
On weekends, you can order the weekend blitz, which is a dozen bagels with cream cheese and nova. The panini menu wouldn't be out of place in Little Italy and is where you should order if you're in that New York state of mind.
The Bagel Emporium is on the catering train, too. Their catering menu keeps it simple: you can opt for any of four crowd-pleasing bagel spreads, for which the restaurant charges per person. Then you can add a coffee box (for about 10 people) plus fruit, veggie, and cheese platters.
Consider celebrating the first morning in your new Chappaqua home with a pound cake from the town's favorite bagel shop.
3. Susan Lawrence Gourmet Foods
Located in picturesque downtown Chappaqua, you won't be disappointed by the elegant
Susan Lawrence Bakery and Cafe
. Susan Lawrence is truly a first-class, full-service restaurant, offering sophisticated baked goods, specialty coffee roasts, and locally-sourced meals both in-store and for catered events.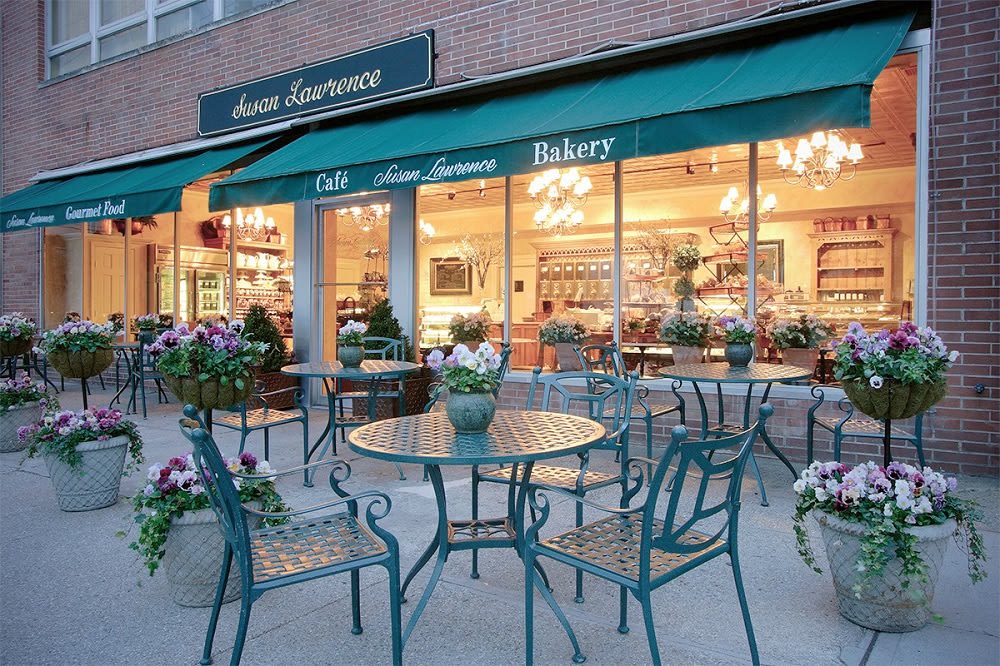 Photo courtesy of Susan Lawrence Gourmet Foods
Enjoy a garden table on the beautiful patio of Susan Lawrence Gourmet Foods with a friend over breakfast or lunch. You can also indulge in delectable fine chocolates, candies, or jams imported from around the world. Some other extraordinary items on their ever-changing menu include or have included:
Salmon burgers with remoulade.

Kale, goat cheese, and fontina pizza.

New England lobster and shrimp salad.

Kobe beef hot dogs.

Buttermilk scones.
Because Susan Lawrence rotates its menu daily, patrons can eat with confidence that everything on the menu is made from fresh ingredients. The restaurant also offers brilliant "dinner solved" menus for families in need of supper fare. Just make sure you pre-order this dinner and pick it up on time.
As if that weren't enough, you also can reserve seats at the restaurants Farm Table Dinners. While open to anyone, this dining experience feels "more like a private party" than your standard restaurant dinner. As you might expect, the menus for Farm Table Dinners differ from the restaurant's main menu: chefs make use of seasonal ingredients from the Hudson River Valley. Altogether, patrons at these dinners enjoy five courses and sommelier wine tasting to boot.
Susan Lawrence has multiple orders ahead and boutique catering options as well. You pick up a sandwich platter, order whole family dinners that customers love bringing into their Chappaqua homes, and put together a basket or platter with various cheeses, sweets, and other hors d'oeuvres.
4. Le Jardin Du Roi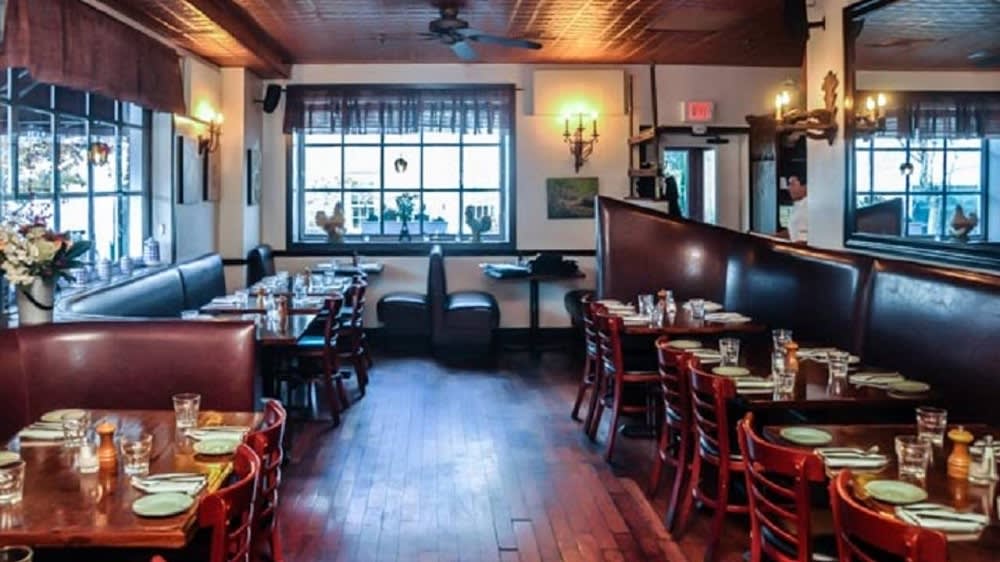 Photo courtesy of OpenTable
French for "the king's garden," Le Jardin Du Roi takes late brunch to another level. The bistro has been a fixture in downtown Chappaqua since 2001. In the two decades since, Le Jardin has perfected both its menu, impeccable service, and coffee.
The restaurant opens at noon, and while it may not be the place for your early a.m. cup of coffee, Le Jardin is unsurpassed for late brunch and lunch. Chief among its all-day breakfast offerings are omelettes. Perhaps the toughest dilemma of your day is choosing three of the ten toppings (smoked salmon, ham, spinach, peppers, mushrooms, onions, tomatoes, bacon, ratatouille, cheese).
Speaking of ratatouille, you also can order the Ouef du Roi (king's egg), which is a delectable melt of poached eggs, goat cheese, potato cake, and ratatouille. Other great brunch-lunch choices include French toast, egg white frittata, breakfast tacos (with pico de gallo), and guacamole (don't call it avocado!) toast.

If you're here for a solid lunch, go with the smoked salmon sandwich or the Vermonter (chicken, avocado, apples, cheddar cheese, and sourdough toast). Whichever meal you're here for, cap it with creme brulee and iced cappuccino or any other of the many dessert-coffee combinations.
And if you're hosting an event, like brunch in the park the day after a wedding, ask Le Jardin to cater it for you. Their comprehensive
catering menu
offers out-of-this-world barbeque, more than a dozen unique appetizers, salads, sides, and desserts like apple crisp, blueberry crumble, and triple chocolate brownies.
Enjoying your morning in Chappaqua

If you're trying to get a feel for daily living while looking at homes for sale in Chappaqua, don't hesitate to try any one of these local options. You'll get a sense of the unique, small-town yet worldly feel of this upscale, family-friendly Westchester town. Plus who knows, you might end up meeting some of your future neighbors.
No matter which of these cafes you visit—or perhaps you'll visit all of them—you're certain to find a world-class cup of coffee and remember Chappaqua's pleasant community feeling. And once you do, you'll be more excited than ever to purchase a little slice of Chappaqua real estate so you can call this place your home.
Whether you have questions about real estate or are ready to buy your Westchester home now, contact experienced real estate agent
Deena Bouchier
today to get started. A New York Native with over 2 decades of real estate experience, I love providing expert guidance and sharing my knowledge with every client. The most rewarding thing for me is making my clients' real estate dreams come true.